Britsch Spannzeuge GmbH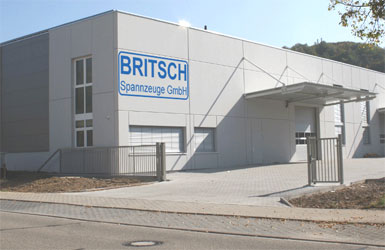 Your expert in turning and milling equipment. Together with our trading partners we ensure quality exactly where quality is essentially required.
With more than 20,000 catalog products you always find the proper accessories you need.
Our long term experience, particularly the successful cooperation with numerous well-known machine and load magazine manufacturers turned us into a lead contact of special-purpose solutions in the field of tool clamping.
For this purpose, we particularly offer tools and spare parts suitable for machines of following manufacturers amongst others:
STAR Micronics, CITIZEN, TRAUB, INDEX, SPINNER, TORNOS, HAAS, MORI SEIKI and many more
We have been standing for high quality and innovative products that make a contribution to our customer's economic success for years. Our aim is to meet the challenge of worldwide growth and steady further development in order to always be ready to support our partners wherever expert consultation and high quality products are needed. This aim drives us to develop ourselves permanently.
News
12.08.2016
Dead length collets

The majority of dead length collets we are producing are now ready in stock.
Some of them are halfway through and will be finished soon.
We would be pleased to answer your enquiries to convince you of our quality!
12.08.2016
Backworking holders

As we are always improving and adapting our product range we can now offer you new diameters for backworking holders.
Our newest expansion concerns backworking holders with inch sizes. We are looking forward for your inquiry.
| | |
| --- | --- |
| 26.11.2015 | Our Catalogue for CITIZEN, STAR, TORNOS |
| | Your Customers are using CITIZEN, STAR or TORNOS machines? We got the right catalogue for it! Now you can find them in the download area here on our Website. Do not hesitate to contact us if you have any questions about it. |
| | |
| --- | --- |
| 18.02.2015 | APPLITEC height adjustable backworking holders |
| | We are continuously increasing our product range of backworking holders for SWISS turn machines. Our latest parts are holders for APPLITEC inserts. Currently they are in the manufacturing process but available in stock soon. |
18.02.2015
HORN height adjustable backworking holders

Our backworking holder system for SWISS turn machines is not only popular in fact of the height adjustment. It is a modular system with a huge multiplicity of possible application areas.

With a shank (HVD) for a specific machine our customer could use all different holders we have in our product range. For example holders for norm inserts, BIMU inserts, APPLITEC inserts as well as IFANGER cutter or ISCAR PICCO CUT tools. It is a very large range of possibilities.

Therefore holders for HORN tools should not be missing
02.02.2015
ETR brochure

Tapping Collets with Length Adjustment.

Our reminder for all who did not know our Topseller in collets or missed it
while checking our large product range.

Instead of hexagon like our competitors we prefer spline drive for exacter guidance
and higher torque.
27.08.2014
A new catalog has arrived!

As of now the entire catalog is available for download in "Downloads" section. "Products" section also allows you to click deeper into our new catalog.

For the last two years we worked hard on radically changing, revising and reviewing the existing catalog. That way a multitude of products was added, which have been manufactured and have been available on stock for years, however unfortunately never found their way into the existing catalog. To get an impression about how many new product variations were added, some numbers in the following:

| | | |
| --- | --- | --- |
| | Old Catalog | Catalog 2015 |
| Cylindrical collet holders | 215 | 510 |
| Collet sleeves | 151 | 268 |
| Nuts for collet sleeves | 124 | 235 |
| Tap holders | 130 | 469 |
| Revolving bar stops | 35 | 224 |
| Reamer holders | 162 | 222 |

The new catalog paper mold is currently in print and will be available from September 18th, 2014. Best you place a reservation right now by sending an E-Mail to info@britsch-spannzeuge.de.

If you have any questions about the new catalog, our team is available with words and deeds at all times.